The City Osteopathic Clinic is based in Moorgate in London and provides a friendly and professional service, offering diagnosis and treatments for a wide range of a conditions.
Damien Harcourt BSc (Hons) Ost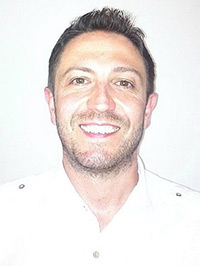 Damien graduated with honours from the worldwide acclaimed British school of Osteopathy in 2003 and has since worked hard to achieve the utmost in clinical skills and patient care. Damien have written posture and osteopathy related articles for national publications and is a registered member of the British Osteopathic Association and theGeneral Osteopathic Council.
Since graduation, Damien has specialised in structural alignment and the removal of barriers to elite performance, working closely with with Mark Thompson DO. This is an extension to the work of the late TERRY MOULE D.O., who successfully brought better alignment to many of the UK's top sports stars of the 70′s, 80′s and 90′s. Several, such as the former England Captain Gerry Francis, have stated that Terry's work saved their careers and many attribute Terry's work to overcoming persistent injuries and performance limitations.
The inexhaustible list includes top names such as Paula Radcliff, Steve Redgrave, Fatima Whitbread, Daley Thompson, Sebastian Coe, Geoff Capes, Tim Henman, Les Ferdinand, Teddy Sheringham, Sol Campbell, Peter Winterbottom, Angus Fraser, Sterling Moss, Saracens and British Lions Rugby Team.
Correct alignment and restriction free movement are crucial in gaining that extra 5% performance in elite level sport, fluid movement also uses less energy thus allowing the subject to perform at 100% for longer improving stamina. This principle does not only apply to elite sports people but to performance in all other fields, the more efficiently your body is working the more energy can be devoted to whatever activity you are undertaking thus improving physical and mental performance. This really can make all the difference.